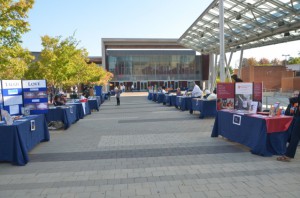 In 2006, DB Consulting Group, Inc. (DB) decided to host a health and wellness fair as way to give back to and connect with the local community. The modest event featured a handful of healthcare vendors who set up tables in the open space outside of the company's Silver Spring, Maryland, headquarters. Attendees were mostly people who happened to be walking by the area and decided to grab some free health brochures or get a free blood pressure screening.
On October 5, 2012, DB and its partners Lux Consulting Group, the Department of Health and Human Services in Rockville, and the Greater Silver Spring Chamber of Commerce hosted the 2012 Health and Wellness Fair. Having outgrown its original venue in 2010, the event was held at the Silver Spring Civic Building and attended by more than 1,000 people.
"Attendees are no longer people who happen to be walking by," said DB Corporate Event Planner and Marketing Manager Barbara Parker Triplett. "The fair has become an event that community members look forward to and put on their calendars. It provides health information and services and connects community members with valuable health resources."
More than 45 healthcare providers and professionals distributed free information or conducted free health screenings. There were also three mobile health units, as well as Montgomery Cares and Priority Partners. Montgomery Cares and Priority Partners provide immediate health care to those who need it at no cost. Vendors, such as Drink More Water and Subway, also distributed refreshments, while Smooth Entertainment provided music.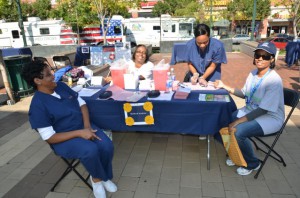 County Executive Isaiah Leggett and Councilman George Leventhal welcomed the crowd and thanked DB and its partners for organizing an event that brings together much-needed health resources for the community.
"Silver Spring is more than just the place where DB has its headquarters," said DB Chief Executive Officer Gerald Boyd, Jr. "The city and the surrounding communities are where we and many of our employees live. It's home to us. DB is committed to doing our part to enhance the health of the community. Throughout the year, we participate in a variety of community outreach events, such as blood drives and toy drives. The Health and Wellness Fair is really our showcase event, and we are thrilled that it has been so well-received by the community."