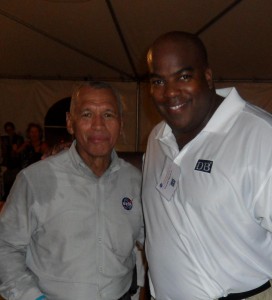 NASA Administrator Charles Bolden (on left)
and DB Chief Executive Officer Gerald Boyd, Jr.
In the three decades since the first space shuttle was launched on April 12, 1981, five shuttles and hundreds of astronauts have embarked on 135 space shuttle missions. Combined, these shuttles have orbited the Earth 21,000 times and their astronauts have travelled millions of miles through space.
On July 8 at 11:29 a.m. (EDT), the Space Shuttle Atlantis lifted off on its 33rd flight from Pad 39A at the Kennedy Space Center. The launch marked the 135th — and final — mission of NASA's Space Shuttle Program. To honor this historic event, DB Consulting Group, Inc. (DB) and NASA Glenn Research Center co-hosted a pre-launch reception on July 6 at the Doubletree Hotel in Cocoa Beach, Florida. More than 250 individuals attended the event, including NASA Administrator Charles Bolden; Glenn Research Center Director Ray Lugo; former Glenn Research Center Director and current Associate Administrator for Mission Support at NASA Headquarters in Washington, D.C. Dr. Woodrow Whitlow, Jr.; and NASA Astronaut and Mission Specialist for three space shuttle flights Richard Mastracchio.
"DB wanted to host an event that not only celebrated the success of NASA's Space Shuttle Program, but also recognized the contributions to the program put forth by NASA's Glenn Research Center," said DB Chief Executive Officer Gerald Boyd, Jr. "Over the years, the team at Glenn Research Center has provided a wide range of activities in support of the program — from contributing to the original design of the space shuttle to ensuring the safety of shuttle launches. We wanted to congratulate them on a job well done."
The purpose of the 12-day flight, which will be the 37th and final visit of a space shuttle to the International Space Station, is to stock the complex with as many supplies and spare parts as possible for sustenance of the outpost and its crews in the post-shuttle era. The four-person crew for the 12-day flight includes Commander Chris Ferguson, Pilot Doug Hurley, and Mission Specialists Sandy Magnus and Rex Walheim.